Help the Key Deer
by
Kim
on October 22nd, 2016
Endangered Key Deer need our help!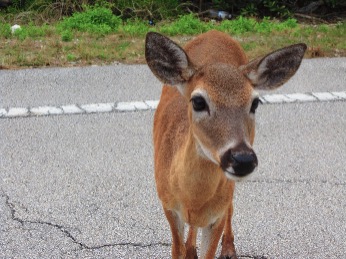 Key Deer are being affected by deadly fly larvae called
New World Screwworm
.
This page provides links, contact information, and updates for those of you with whom I have connected through Facebook. I am offering to provide transportation via the
Up The Keys
tour van for volunteers as our schedule allows.
If you can volunteer to help the Key Deer, you can help save these special endangered creatures.
In an effort to help the Key Deer, I have attended the volunteer training at the Key Deer Refuge and hands-on training in the field on Big Pine Key. Volunteers are being asked to administer anti-parasitic medications to healthy and recently infected Key Deer and to mark them as being treated. In order to do this, we must feed the Key Deer bread soaked with the medication. Contrary to what the National Key Deer Refuge has so strongly emphasized, officials are asking us to feed the deer specific healthy fruits and vegetables to lure them to the lifesaving medicated bread.
Volunteers for this process will most likely be needed for the next two months
. I will post when I am available to offer free transportation to those who want a ride up to Big Pine. ​This will most often be in the early evenings, which is the best time to find the key deer anyway. Please comment below or
email me
to sign up to ride with me. I will send out an email as soon as I know when I am available. ​
Training consists of a 1-1/2 hour briefing at the Key Deer Refuge Visitor Center and hands-on training in the field around sunset. If I can offer free transport for this, I will.
*I am offering free transportation when I have time to go and the Up The Keys van is available.
Posted in not categorized
Tagged with no tags